Genus: Rhamnus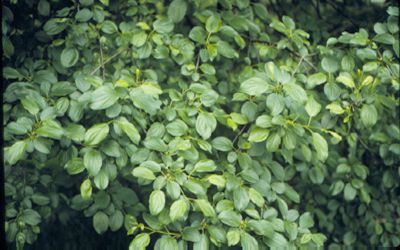 By Steven D. Glenn
Not peer reviewed
Last Modified 03/11/2013
Nomenclature
Rhamnus
L., Sp. Pl. 1: 193. 1753. Gen. Pl. 89. 1754.
Cervispina
Ludw., Inst. Regn. Vég. ed. 2. 141. 1757,
nom. illeg. (Art. 52.1).
LECTOTYPE:
Rhamnus catharticus
L. (Adans., Fam. 2: 514, 559, 587, 620. 1763, successively eliminates all species but
R. catharticus
from the Linnaean genus).
Frangula Mill., Gard. Dict. abr. ed. 4. 1754. LECTOTYPE: Frangula alnus Mill. (=Rhamnus frangula L.).
Girtanneria Neck. ex Raf., Sylva Tellur. 28. 1838. TYPE: Not designated.
Apetlorhamnus Nieuwl., Amer. Midl. Naturalist 4: 90. 1915. TYPE: Apetlorhamnus alnifolia (L'Hér.) Nieuwl. (=Rhamnus alnifolia L'Hér.).
Key to the species of Rhamnus
1. Leaves mostly opposite or subopposite...
Rhamnus cathartica
1. Leaves alternate...
2
2. Leaves entire or with a few marginal glands near the apex; petals present...Rhamnus frangula
2. Leaves crenate-serrate; petals none...Rhamnus alnifolia
List of Rhamnus Species
References to Rhamnus
Beille, L. 1902. Recherches sur le developpment floral des Disciflores. Ph.D. Thesis Bordeaux177 p.
Bennek, C. 1958. Die morphologische Beurteilung der Staub- und Blumenblatter der Rhamnaceen. Bot. Jahrb. Syst. 77: 423-457. (In German)
Bolmgren, K.; Oxelman, B. 2004. Generic limits in Rhamnus L. s.l. (Rhamnaceae) inferred from nuclear and chloroplast DNA sequence phylogenies. Taxon 53: 383-390.
Brizicky, George K. 1964. The genera of Rhamnaceae in the southeastern United States. J. Arnold Arbor. 45: 439-63.
Brown, W. T. et.al. 2001. Volunteer monitoring of nonindigenous invasive plant species in the Adirondack Park, New York, USA. Natural Areas Journal 21: 189-196.
Clebsch, E. E. C.; Walker, G. L.; Wofford, B. E. 1989. Noteworthy collections, Tennessee. Castanea 54: 48-50.
Coles, I. 1872. Glen Cove, L.I. Bull. Torrey Bot. Club 3: 47.
Converse, C. K. 1984. Rhamnus cathartica and Rhamnus frangula.
Freeman, C. C. et.al. 1998. Vascular plants new to Kansas. Sida 18: 593-604.
Gil-Ad, N. L.; Reznicek, A. A. 1997. Evidence for hybridization of two old world Rhamnus species - R. cathartica and R. utilis (Rhamnaceae) - in the new world. Rhodora 99: 1-22.
Gill, D. S.; Marks, P. L. 1991. Tree and shrub seedling colonization of old fields in central New York. Ecol. Monogr. 61: 183-205.
Gourley, L. C. 1985. A study of the ecology and spread of buckthorn (Rhamnus cathartica L.) with particular reference to the University of Wisconsin Arboretum. M.S. Thesis Univ. Wisconsin, Madison,
Grubov, V. I. 1949. The monographic survey of the genus Rhamnus L. s.l. Trudy Bot. Inst. Akad. Nauk SSSR, Ser. 1, Fl. Sist. Vyss. Rast. 8: 241-423. (In Russian)
Grubov, V. I. 1950. De systemate generis Rhamnus L. (Primarily in Latin). Bot. Mater. Gerb. Glavn. Bot. Sada SSSR 12: 123-33.
Harrington, R. A.; Brown, B. J.; Reich, P. B. 1989. Ecophysiology of exotic and native shrubs in southern Wisconsin I. Oecologia 80: 356-367.
Harrington, R. A.; Brown, B. J.; Reich, P. B. 1989. Ecophysiology of exotic and native shrubs in southern Wisconsin II. Oecologia 80: 368-373.
Heidorn, R. 1991. Vegetation management guideline: Exotic buckthorns- common buckthorn (Rhamnus cathartica L.), glossy buckthorn (Rhamnus frangula L.), Dahurian buckthorn (Rhamnus davurica Pall.). Natural Areas Journal 11: 216-7.
Heppeler, F. 1928. Beitroge zur Systematik der Gattung Rhamnus mit besonderer Berucksichtigung des Emodinvorkommens. Arch. Pharm. (Berlin) 266: 152-73.
Herron, P.M. et.al. 2007. Invasive plants and their ecological strategies: prediction and explanation of woody plant invasion in New England. Diversity and Distributions 13: 633-644.
Hess, W. J.; Stearn, W. T. 1979. The identity of Cornus citrifolia Weston. Taxon 28(5/6): 553-556. (See Taxon 30:298. 1981.)
Hess, W. J.; Stearn, W. T. 1981. A correction involving Rhamnus citrifolia (Weston) Hess & Stearn. Taxon 30: 298.
Johnston, M. C. 1971. Studies in the Rhamnaceae: relationships in the tribe Rhamneae. Amer. J. Bot. 58(5): 464. (Abstract)
Jones, J. H. 1981. Variation of foliar features in the Rhamnaceae: tribes Rhamneae and Zizypheae. Proc. Indiana Acad. Sci. 91: 110. (Abstract)
Juel, H. O. 1929. Beitroge zur Morphologie und Entwickelungsgeschichte der Rhamnaceen. Kongl. Svenska Vetenskapsakad. Handl. 7(3): 1-13.
Kline, V. 1981. Control of honeysuckle and buckthorn in oak forests. Restor. Manag. Notes 1: 18.
Kozo-Poljanski, V. 1924. Ueber die Anwendung der anatomischen Methode in der Systematik der Angiospermen. Bull. Soc. Nat. Moscow Biol. II. 32: 289-310.
Kral, R. 1981. Some distributional reports of weedy or naturalized foreign species of vascular plants for the southern states, particularly Alabama and middle Tennessee. Castanea 46: 334-9.
Kurylo, J. S. et.al. 2007. Rhamnus cathartica: native and naturalized distribution and habitat preferences. J. Torrey Bot. Soc. 134: 420-430.
Lacombe, N. R.; Youngken, H. W. 1943. Studies on the anatomy of Rhamnus lanceolata Pursh and Rhamnus cathartica L. J. Amer. Pharm. Assoc. 32: 193-202.
Leitner, L. A. 1985. An alien shrub in a changing landscape: the European buckthorn (Rhamnus cathartica L.) in southeastern Wisconsin. Ph.D. Dissertation Univ. Wisconsin, Milwaukee,
Lichvar, R. W.; Dorn, R. D. 1980. Rhamnus cathartica L. (Rhamnaceae). Madrono 27(3): 140.
Lindau, G. 1891. Zur Entwicklungsgeschichte einiger Samen. Ber. Deutsch. Bot. Ges. 9: 274-9.
Malicky, H.; Sobhian, R.; Zwolfer, H. 1970. Investigtions on the possibilities of a biological control of Rhamnus cathartica L. in Canada: host ranges, feeding sites, and phenology of insects associated with European Rhamnaceae. Zeitschrift fur Angewandte Zoologie-Entomologie 65: 77-97.
Maw, M. G. 1981. Rhamnus cathartica L., common or european buckthorn (Rhamnaceae). In: Biological control programs against insects and weeds in Canada. Commonwealth Agric. Bureau, United Kingdom. , 185-9 pages.
McCay, T. S. et.al. 2009. Demography and distribution of the invasive Rhamnus cathartica in habitats of a fragmented landscape. J. Torrey Bot. Soc. 136: 110-121.
Myers, J. A. et.al. 2004. Seed dispersal by white-tailed deer: implications for long-distance dispersal, invasion, and migration of plants in eastern North America. Oecologia 139: 35-44.
Ogle, D. W. 1989. Barns Chapel Swamp: an unusual arbor-vitae (Thuja occidentalis L.) site in Washington County, Virginia. Castanea 54: 200-202. (other spp. discussed)
Olechnowicz, S. W.; Rzadkowska, B. H.; Gasiorowski, K. 1992. The chemical characteristic and some biological properties of the Rhamnus cathartica L. fruits. Herba Pol. 38(3): 115-22. (In Polish: English summary)
Osmund, D. 1997. Cut-stump treatment of buckthorn effective despite two-hour delay between cutting and spraying. Restor. Manag. Notes 15: 197-8.
Pellett, F. C. 1920. American Honey Plants. Hamilton, IL. , 297 pages.
Pratt, J. D. 1980. New England note: A naturalized population of Rhamnus citrifolia in Connecticut. Rhodora 82(831): 523-4.
Prichard, E. C. 1955. Morphological studies in Rhamnaceae. J. Elisha Mitchell Sci. Soc. 71: 82-106.
Reveal, J. L.; Moulton, G. E.; Schuyler, A. E. 1999. The Lewis and Clark collections of vascular plants: Names, types, and comments. Proc. Acad. Nat. Sci. Philadelphia 149: 1-64.
Robertson, C. 1896. Flowers and insects. XVII. Bot. Gaz. 22: 154-65.
Rusby, H. H. 1906. A historical sketch of the development of botany in New York City. Torreya 6: 101-11, 133-45.
Schmidt, K. A.; Whelan, C. J. 1999. Effects of exotic Lonicera and Rhamnus on songbird nest predation. Conserv. Biol. 13: 1502-1506.
Seltzner, S.; Eddy, T. L. 2003. Allelopathy in Rhamnus cathartica, European buckthorn. Michigan Bot. 42: 51-61.
Shahid, A. et.al. 2009. Selection of seeds of common native and non-native plants by granivorous rodents in the northeastern United States. Amer. Midl. Naturalist 162: 207-212.
Sherburne, J. A. 1972. Effects of seasonal changes in the abundance and chemistry of the fleshy fruits of northeastern woody shrubs on patterns of exploitation by frugivorous birds. Ph.D. Dissertation Cornell University, Ithaca, NY157 p.
Trelease, W. 1889. North American Rhamnaceae. Trans. St. Louis Acad. Sci. 5: 358-69.
Vikhireva, V. V. 1951. Seed development in the buckthorn family (Rhamnaceae). Trudy Bot. Inst. Akad. Nauk SSSR, Ser. 7, Morphol. Anat. Pl. 2: 221-7. (In Russian)
Vikhireva, V. V. 1952. A morphological-anatomical study of the fruits of Rhamnaceae. Trudy Bot. Inst. Akad. Nauk SSSR, Ser. 7, Morphol. Anat. Pl. 3: 241-92. (In Russian)
Ward, M.; Dunlop, J. 1887. On some points in the histology and physiology of the fruits of Rhamnus. Ann. Bot. 1: 1-26.
Webster, C. R. et.al. 2007. Invasion biology and control of invasive woody plants in eastern forests. Native Plants J. 8: 97-106.
Wolf, C. B. 1938. The North American species of Rhamnus.