Genus: Physocarpus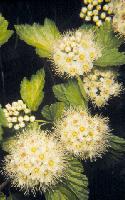 By Science Staff
Not peer reviewed
Last Modified 02/08/2012
Nomenclature
Spiraea
sect.
Physocarpos
Cambess., Ann. Sci. Nat. 1: 239, 385. 1824.
Physocarpa
(Cambess.) Raf., New Fl. 3: 73. 1838,
nom. rej.
Physocarpus
(Cambess.) Maxim., Trudy Imp. S. Peterburgsk. Bot. Sada 6: 219. 1879,
nom. cons.
Opulaster
Medik. ex Rydb., N. Amer. Fl. 22: 240. 1908,
nom. illeg. (Art. 52.1).
LECTOTYPE:
Spiraea opulifolia
L., designated by ?
Key to the species of Physocarpus
List of Physocarpus Species
References to Physocarpus
Baldwin, J. T. 1951. Chromosomes of Spiraea and of certain other genera of Rosaceae. Rhodora 53(632): 203-6.
Evans, R. C.; Dickinson, T. A. 1999. Floral ontogeny and morphology in subfamily Spiraeoideae Endl. (Rosaceae). Int. J. Plant Sci. 160: 981-1012.
Greene, E. L. 1889. The North American Neilliae. Pittonia 2: 25-31. (Includes Physocarpus)
Hoss, G. A. 2001. Propagation protocol for ninebark (Physocarpus opulifolius). Native Plants J. 2: 60-61.
Lindenhofer, A; Weber, A 1999. Polyandry in Rosaceae: evidence for a spiral origin of the androecium in Spiraeoideae. Bot. Jahrb. Syst. 121: 553-582.
McVaugh, R. 1973. Report of the Committee for Spermatophyta: conservation of generic names: proposal 329(3316) Physocarpus (Cambessedes) Maximowicz (1879), nom. conserv., vs. Physocarpum (A.P.De Candolle) Berchtold and Presl (1823), and Epicostorus
Oh, S. H. 2004. (1619) Proposal to conserve the name Physocarpus opulifolius (L.) Maxim. against Physocarpus opulifolius Raf. (Rosaceae). Taxon 53: 212-213.
Robertson, K. R. 1972. (329) Nomina conservanda proposita: Physocarpus. Taxon 21: 211-2.
Sterling, C. 1953. Developmental anatomy of the fruit of Prunus domestica. Bull. Torrey Bot. Club 80: 457-477. (Other genera also)
Turrill, W. B. 1964. Physocarpus opulifolius f. luteus. Bot. Mag. 175: pl. 459.
Vidal, J. 1963. Le genre Neillia (Rosaceae). Adansonia 3: 142-66. (In French; Includes Physocarpus)
Waldbauer, G. P. 1984. Mating behavior at blossoms and the flower associations of mimetic Temnostoma spp. Diptera Syrphidae in northern Michigan USA. Proc. Entomol. Soc. Wash. 86: 295-304.